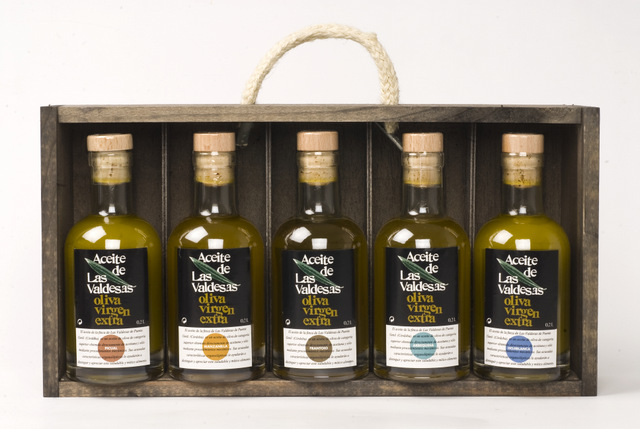 At The Valdesas, we would like you to try our extra virgin olive oil single-varietal because we believe you will notice the difference compared to other oils you have tried.
We also understand the reluctance to place an order for food, and even more via online, without trying it first.
Therefore, we encourage you to make your first online order and we will help with a 15 % discount on the price of oil.
Simply register as a Aceite de las Valdesas website user, and once we verify your email, we will provide you with a discount coupon to enter during your first online order.
Create an account
Please, fill in the form below to create an account.
or
---
Reviews
Extra Virgin Olive Oil 5 L

Ron Kelsey: Great Olive oil

10/04/2021

Great service great Olive oil, filtert and unfiltert oil.The hole family is crazy about Las Valdesas oil!.

Extra Virgin Olive Oil tasting box set

Donjah Hartsuijker: Geweldige (bio) olijfolie!

09/12/2021

Amazing olive oil, all tried varieties were very nice. Super flavour, high in healthy polyphenols. Very happy to order again. Also, the smaller bottles makes great little gifts. Friends were also happy :-)
Spanish Organic Extra Virgin Olive Oil 2,5 L tin

Markus Pardeller: bio olive oil extra

08/17/2021

both of the bio olive oils (filterd and unfiltered) have a very tasty aroma. a clear recommendation!

Extra Virgin Olive Oil 5 L

Yael Bakker: Great oil, returning customer

08/03/2021

It's really useful to be able to order directly from the producer, as well as always having oil at hand
Spanish Organic Extra Virgin Olive Oil 2,5 L tin

Christian Frank: Great fruity olive oil

08/03/2021

We have tried the unfiltered olive oil and found it to have a great taste. Combined with a reasonable cost, it won't be the last time we order olive oil from here.

Extra Virgin Olive Oil 5 L

Allan Skaaning: OliveLove

07/29/2021

I was very excited by the first order - frutti and excepltional quality olive oil. I therefor made this new order and cant wait to recieve it.