Arbequina Olive Oil variety is the typical of the provinces of Lérida and Tarragona. However, in the last years its cultivation has been spread throughout Spain, especially in Andalusia and Castilla La Mancha.
Arbequina variety enters into production quickly, has good performance and lends itself well to the new super intensive plantations. This makes that the cultivation of the arbequina variety has experienced a great expansion in the last few years.
Characteristics and properties of Arbequina Olive Oils:
The main feature of the arbequina olive oil is that it is a sweet oil, i.e. it does not have any bitter aftertaste. Some Arbequina Olive Oils may sting in throat, stating simply that it is fresh.
Another characteristic of arbequina olive oil is that it tends to be quite aromatic, giving fruity aromas, like banana and apple. Mature arbequina olive oils tend to remind to the porridge of fruits for babies. This smell is due to the high percentage of polyunsaturated acids that often contain. As these acids are more volatile than the oleic acid (monounsaturated), arbequina olive oil has the disadvantage that it is less stable compared to other olive oil varieties.
Nevertheless, Arbequina olive oil, like the rest of the olive oils, has a high percentage of oleic acid, which helps to reduce the bad cholesterol (LDL) increasing the good one (HDL).
It should also be noted that Arbequina olive oil has slightly lower values of polyphenols than the rest of the varieties, so people who consume olive oil with the intention of improving their cardiovascular health should consume other varieties such as the picual or manzanilla.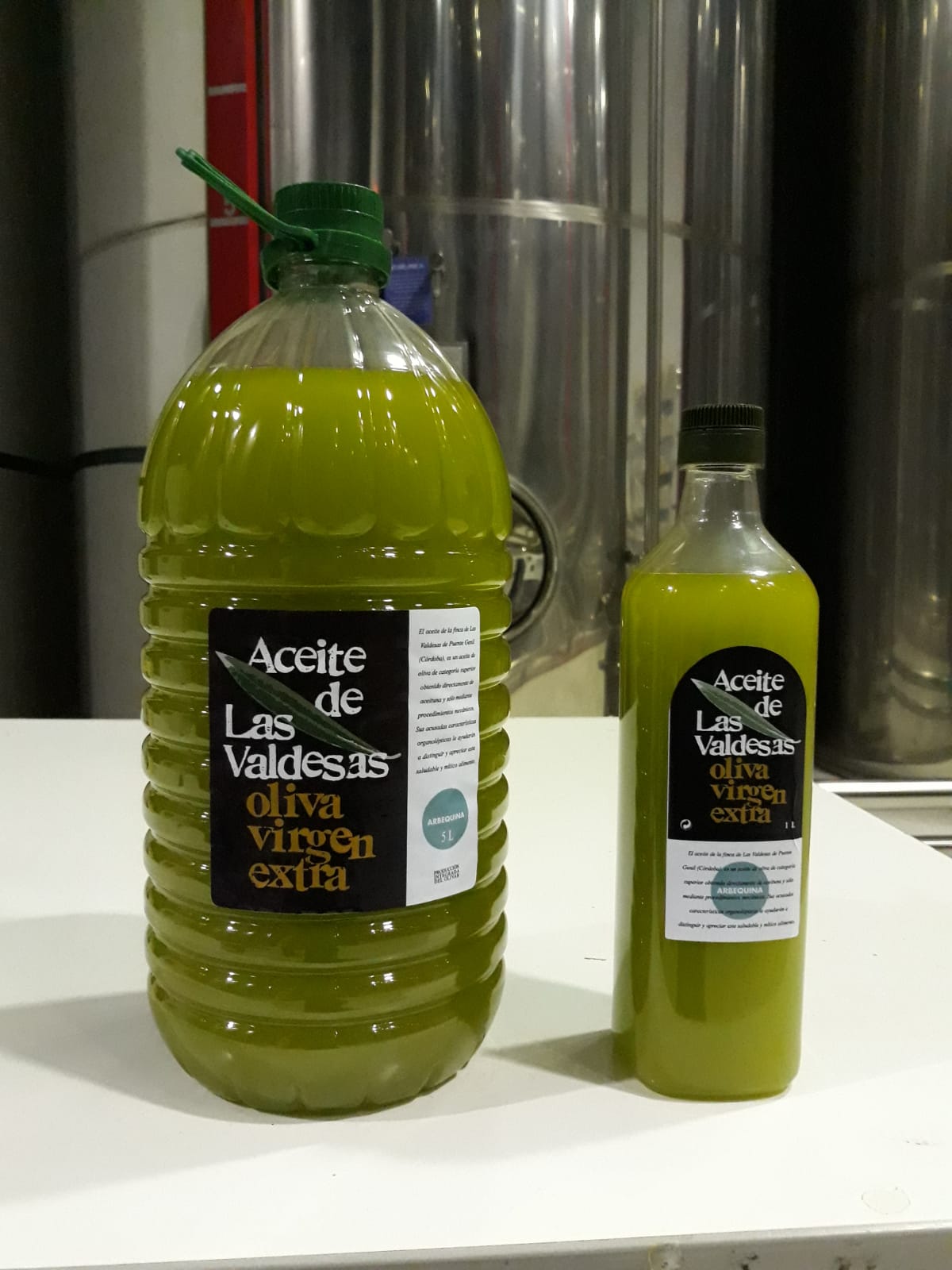 Fresh Unfiltered Arbequina olive oil
Uses of Arbequina Olive Oils:
Arbequina Olive Oil due to its soft and sweet aroma and taste has a wider use than other stronger olive oils.
For example, it is the most recommended to introduce children in the consumption of olive oil, as well as for people that is not used to consum olive oils. (Olive oil arbequina is widely exported).
It is also the best variety to use in the preparation of mayonnaise or soft and delicate sauces, where other varieties would be too strong. In the same way we recommend it for baking as a substitute of butter, especially in biscuits.
In crude, we consider it be very good for breakfast and fits perfectly with a tomato, and even with jam.

In the salads it fits very well with fruits, like kiwis, apples and raisins. Even to give a touch to mixtures of fruits.
It is also the olive oil that we recommend to use with fish and seafood. For example, fresh anchovies in vinegar, marinated salmon, etc.
On the other hand, since it is not the most stable variety, there would be other varieties better for frying and cooking. However, there is no problem to use it for cooking. Arbequina Olive Oil is for more stable than the sunflower oil, for example.