---
Reviews
Extra Virgin Olive Oil 1 L

Gary Radocchio: Olive Oils - all very good

04/29/2021

I have tried all 5 varieties and for me, they are all good but the ones that stand out are, in order of preference: 1. Manzanilla2. Hojiblanca3. Arbequina4. Picual5. Frantoio All excellent, just depends on your taste preference!

Extra Virgin Olive Oil 2.5 L Tin

Andrei Ovchinkin: Fantastic oils, perfect service

03/19/2021

Bought unfiltered oils. Enjoy all of them using daily. Arbequina is an all-round type, while Frantoio is for special occassions with clear bitter in a throat. Love them.
Extra Virgin Olive Oil 5 L

paula alvarez: Great product

11/23/2020

My olive oil arrived in the expected day. The quality of the oil is just amazing. Frantoio is definitely my new favorite oil

Extra Virgin Olive Oil 1 L

Gerry Gold: Mmmmm! the real deal!

11/11/2020

Hola!We bought some of all five filtered varieties to see what the differences are and we've loved them all! You guys are doing a great job. During the summer we had some fun - inviting neighbours and friends to socially-distanced tastings and enjoyed sharing what we bought. We like Hojiblanca for cooking, Picual for dipping bread, and we've liked it and Manzanilla to liven up pasta. Given the 'entry-level' description for Arbequina we were a little surpised by an unexpected but not unpleasant catch in the back of the throat. Frantoio is probably the all-round favourite in this household, and is the one our neighbours come back for. We're really looking forward to trying some unfiltered oil in the near future. We had a little problem using my credit card from the UK, but that was easily resolved ...
Extra Virgin Olive Oil 1 L

Martin Quinn: Great oil and great service.

10/30/2020

Many thanks for the delivery of olive oil. It was my first order and I got a Hojiblanca, Picual, Frantoio and Arbequina. It arrived quickly and I am still enjoying their great taste. Thanks very much and I would gladly recommend Las Valdesas.

Extra Virgin Olive Oil 2.5 L Tin

Ben Hourahine: Excellent oils

10/11/2020

Both the hojiblanca and frantoio were of very high quality and were much enjoyed.
Olive oil from the new crop
Soon we will start harvesting the olives. Do you wish to be notified when the olive oils of the new crop are available? Enter your name and email address and we will inform you
---
First time purchase coupon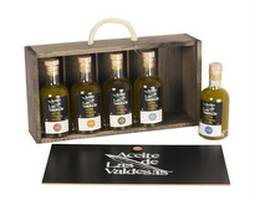 Sign up and get a 15% discount on the price of olive oil on your first order online.
---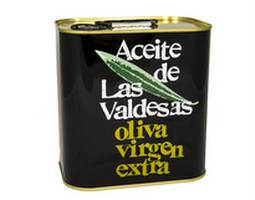 ---
​