Why sometimes the olive oil is cloudy, and others are clear?
Las Valdesas Extra Virgin Olive Oils are unfiltered. In Las Valdesas we prefer not to filter the olive oils because aromas and flavors can get lost. That's why it has vegetable remains in suspension that are those who give the cloudiness to the olive oils.
In our stainless steel tanks these vegetable particles are decanted throughout the months in a natural way, and settle at the bottom of the tanks. Therefore, if you have bought them just after the season, between November and January, the olive oil will be newly ground and it will be cloudy; while, if you buy them later, they will be more transparent because much of these elements in suspension will be already decanted.
Because of the extra virgin olive oil is a fruit juice, we recommend its consumption as fresh as possible. This way, it preserves all its nourishing and culinary qualities. However, some customers do not like the Olive Oils too fresh. We recommend to these clients to purchase the olive oils from May, when the oils are practically decanted, or in case that they have already acquired them, to preserve them before consuming for some months, since they will decant also in the bottles.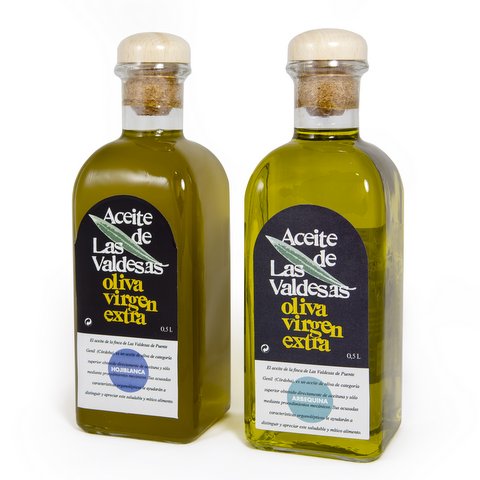 In the picture, we show you two glass flasks with our extra virgin olive oils. The one on the left is cloudier than the right one. Both are unfiltered and harvested the same year.
But there are two differences: the olive oil on the left was produced at the end of December and the other one on the right, at the beginning of the season, at the end of October and early November, therefore the second has had two more months to decant.
On the other hand, the olive oil on the left is from Hojiblanca variety, while the other is Arbequina variety, two of our five Single Extra Virgin Monovarietals.
The Olive Oil of the variety Hojiblanca, at least that of Las Valdesas, is the slower decanting among all of them. In fact the picture was taken in July.